2011 Front Page Archive
IN PROGRESS

Results of the 2012/13 Elections

December 13, 2011 - Elections for Club Officer and Director positions were held at the annual FRRL Holiday Party/Meeting,
The following individuals were elected:
President:
Vice-President:
Secretary:
Treasurer:


Directors:

Harry Jones K9DXA
Dawn Williams KC9LQS
Randy Ligocki KC9KAX
Dean Holste KC9EOQ

Denny Barfus W9HI
Jack Ekstrom K9JE
Neil Potter KB9RFX (1 Year term)

Congratulations to the winners, and thanks to all the candidates and the Nominating Committee.



First FRRL Ham Shack Open House Held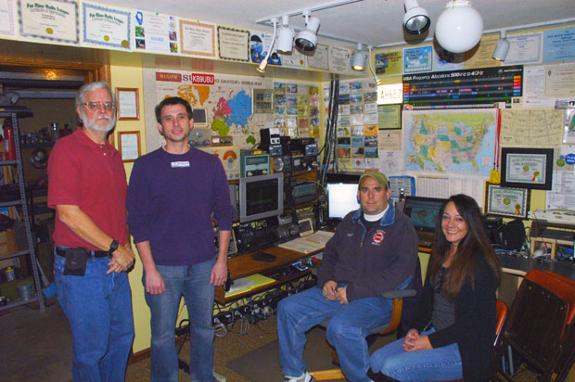 November 12, 2011 - FRRL members KC9LQS, KC0GIJ, and K9ZL spent several hours at the home of AH6EZ participating in the first of the Club's Ham Shack Open House events. The group discussed and observed demonstrations of digital modes and interfaces, the directivity of a Spiderbeam antenna, 10m FM propagation, the operation of the MFJ antenna analyzer, satellite tracking, vintage gear, and all of the RF and computer connections to make it all work "any band, any mode, any time". Everybody had a great time and learned a lot. Shown above, (l to r) AH6EZ, KC0GIJ, K9ZL and KC9LQS.



Nominating Committee Announces Slate for 2012/13 Elections



November 09, 2011 - The FRRL 2011 Nominating Committee presented the names of club members who have agreed to be candidates for election to club offices.

The candidates are:

President: Harry Jones K9DXA
Vice-President: Dawn Williams KC9LQS
Secretary: Randy Ligocki KC9KAX
Treasurer: Dean Holste KC9EOQ

Directors: Neil Potter KB9RFX
Denny Barfus W9HI
Jack Ekstrom K9JE
Debra Gray WX9VOR (formerly KC9SUT)
Chris Farley KC9IEQ

Members of the Nominating Committee were Victoria Pozzie KC9PWM, William Capper WB9LPW, and Chairman Kermit Carlson W9XA. We thank them for their service.

Election rules as provided by the Fox River Radio League By-Laws as amended; May 9, 2006:

Article VII - Election of Officers and Directors

Section 1. Nominations: The Nominating Committee shall present, at the November meeting, a slate of candidates consisting of a minimum of one (1) name per office. Nominations shall also be accepted from the floor at only the November meeting. All nominations shall be published in the next issue of the FRRL Newsletter, or failing said publication, a list of same shall be sent to all members via First Class U.S. mail, a minimum of one week ahead of the December meeting.

Section 2. Election: The annual election of all officers and the directors shall take place at the December meeting. The balloting shall allow for write-in names. A candidate shall be declared elected if that candidate receives the most votes cast by the members.

Section 3. Absentee Ballots: Absentee ballots are allowed only for the election of officers and directors. The absentee ballot shall be prepared by the voter and delivered to any officer prior to the start of the meeting at which the annual election of officers and directors is held. All absentee ballots shall be drafted in ink. The office being voted on with the first and last names or the callsign of each candidate shall be listed on this ballot. The completed ballot shall be enclosed in a sealed envelope that is both printed and signed in ink using first and last name of the voter. The ballots shall be opened and tallied at the election.

If you mail your ballot to the club PO Box you must ensure it is delivered prior to 12 noon Tuesday December 13, 2011 at which time the PO Box will be checked for any mail-in absentee ballots. Please place you ballot inside an envelope and then place that envelope in another to mail. Late ballots will not be considered.



TV Antenna Replaced by 2 Meter Ringo - St. Rita of Cascia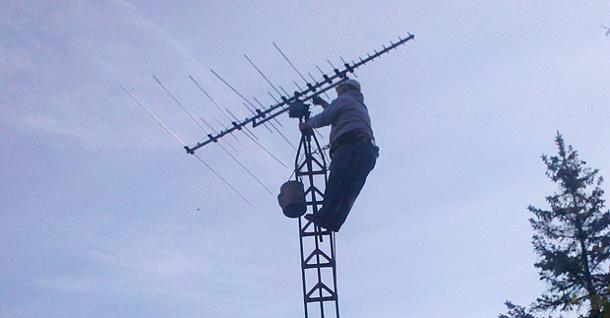 October 22, 2011 - FRRL members spent several hours at the St. Rita of Cascia campus in Aurora to work on two projects. The first project involved the FRRL bringing internet to our meeting room. The second project is designed to help Fr. Cesar set up a 2M base station in his office. Dick AH6EZ located resources to tie in to an existing high speed internet connection point in the Parish Center, and using Canopy modules, set up an RF link to our meeting room. Dick had help from Jeff N9JZN, Larry K9ARZ, Dawn KC9LQS, Dean KC9EOQ, and Harry K9DXA. Dean used a laptop to test the system which is working well.
Larry K9ARZ (shown above) strapped on his trusty climbing belt and took off for the top of the existing tower behind the Parish Center building. He removed a rotator and TV antenna, and mounted a Ringo 2M vertical, complete with RG213 coax. Fr. Cesar should be on the air soon after the cable is routed to his office.


Dave N9XU Published in November QST

October 16, 2011 - Fox River Radio League member Dave Holdeman, N9XU once again has another of his excellent articles published in the ARRL monthly publication QST. The November QST features Dave's solution for those who have antenna restructions. He shows how he adapted two ten foot plastic downspouts into a stealthy 160 or 80 Meter vertical antenna.

Look for Dave's article on page 45 of the November issue of QST and enjoy four full pages of interesting writing. Congratulations N9XU on another fine article!




IRLP Node 8203 - New Yagi Antenna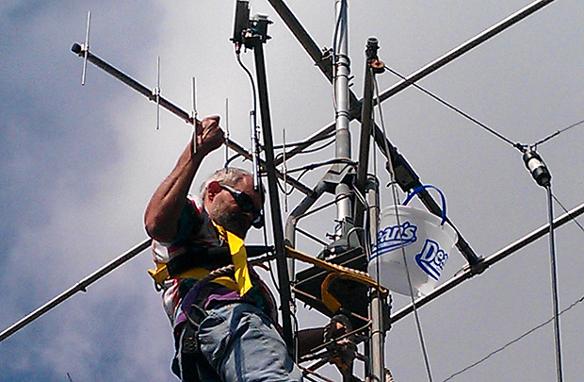 September 25, 2011 - N9JZN Jeff installs new 440 yagi on the tower at the QTH of Dean, KC9EOQ. The antenna is an upgrade to an IRLP simplex node used by Denny, W9HI and John, AG9D for school and ARISS contact relays.

Congratulations Technician Class Students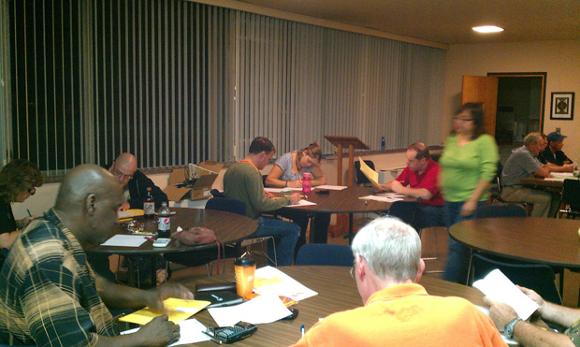 Photo: Mike K9FE

September 20, 2011 - Just a view of the September VE testing session at St.Ritas. This was the first session after the Technician class the Eric AB9OS and Dawn KC9LQS taught for the last few months. Every student that attended passed the exam earning their Technician License. K9FE remarked, "As one who scored many of the tests I can say that they knew the material very well. Congratulations are in order!" Eric and Dawn are working on possibly scheduling another session yet this year.


FRRL Members Attend W9DXCC Convention & Banquet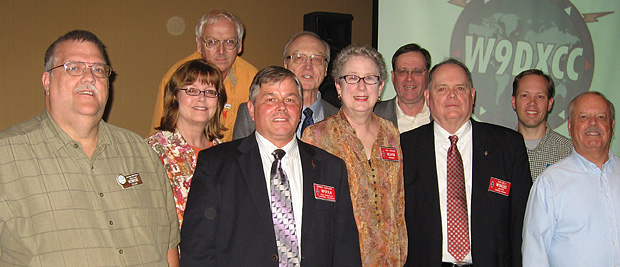 September 17, 2011 - The FRRL was well represented at the W9DXCC convention held at the Holiday Inn in Elk Grove Village. There were over 200 attendees from the Midwest in attendance. Favorite presentations were Craig Thompson's, K9CT, talk about constructing his antenna farm in Trivoli, IL in Peoria County, how John Sweeney, K9EL (VA3CDX), controls his station at his home in Illinois from his home in Canada. Also presented were very interesting talks on DXpeditions at CY0 Sable Island, K6VVA/KL7 IOTA Point Lay Barrier Island and VP8ORK South Orkney. The convention chairman Jack, K9JE and his group did a great job of organizing the event. The day concluded with a dinner banquet where ARRL President Kay Craigie, N3KN spoke to those in attendance of her personal experience in amateur radio and her hopes for the future of the hobby. Her speech was very inspiring to everyone who attended. This year's grand prize was a Yaesu FT-2000 HF radio which was won by no one from the FRRL. Darn!
Front row from left to right: Dean, KC9EOQ, Kermit, W9XA, Kay, N3KN, Dick, W9GIG, Jack, K9JE
Back row from left to right: Caron, W9QLT, Roberto, WA9E, Joe, NA9A, Harry, K9DXA, Jeff, K9BQL. Not pictured, Gary K9MMS.


Technician Class Continues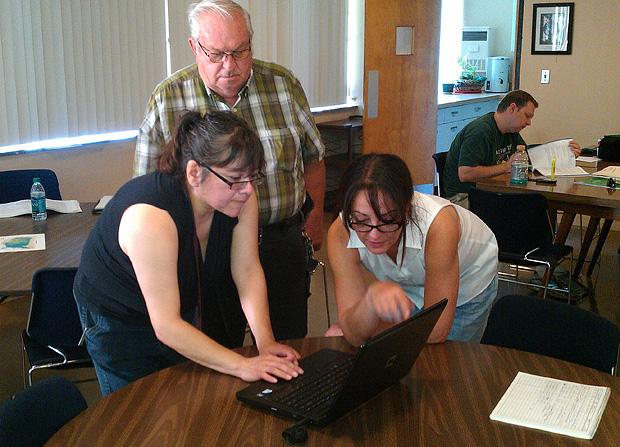 Photo: Dean KC9EOQ


September 3, 2011 - FRRL Technician class student, Mary makes a log entry to the N3FJP AC Log 3.0 as class student Orv and class instructor Dawn, KC9LQS look on. Dawn demonstrated the logging program at Saturday's Technician class being held at St. Rita's church.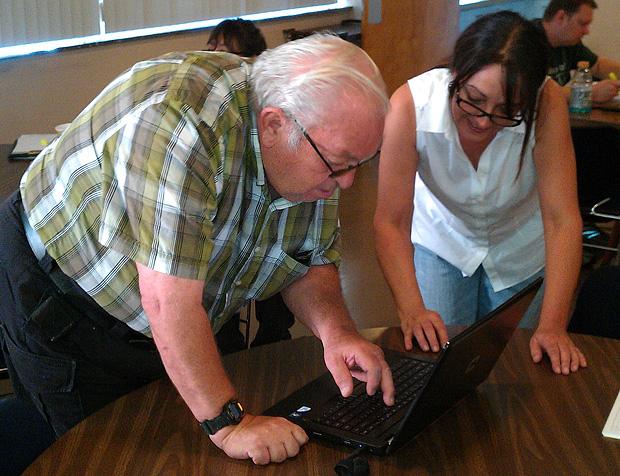 Photo: Dean KC9EOQ

September 3, 2011 - The Fox River Radio League's Technician license class continues to meet each Saturday morning at St. Rita's church. During today's class, the instructor Dawn, KC9LQS, shows Orv the functions of a computer based logging program. The program was N3FJP's AC Log 3.0 program. Each student was given the opportunity to make practice entries into the logging program.
QRP Discussion Slated for September Meeting

August 19, 2011 - You may have seen some Yahoo Group postings by John Greusel, KC9OJV, discussing his building of a 75m SSB QRP transceiver. For the September program, he will describe the VE2ZM kit and what he has learned about building it and how you can do similar things too. Be sure to come out to the September 13th meeting! 73, Dick AH6EZ

Radio In The Park - More HF Fun Outdoors!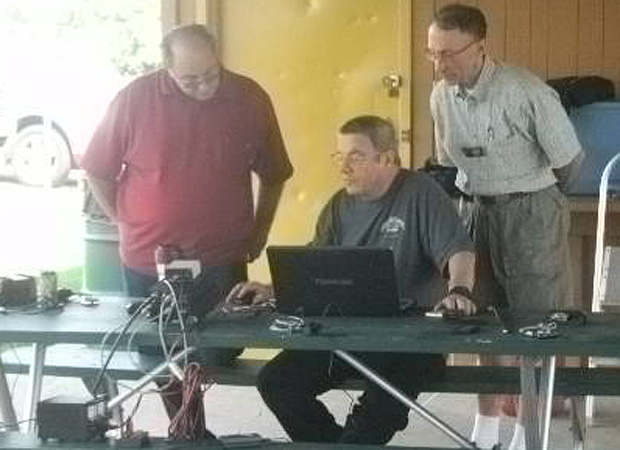 Photos: John AG9D

August 13, 2011 - There's always something great about packing up your ham gear and taking it out to a nice park and operating for a while. Bill NF9D (seated) organized the Saturday event. Looking on is Tim N9TO (left) and Ron KC9SNI (right).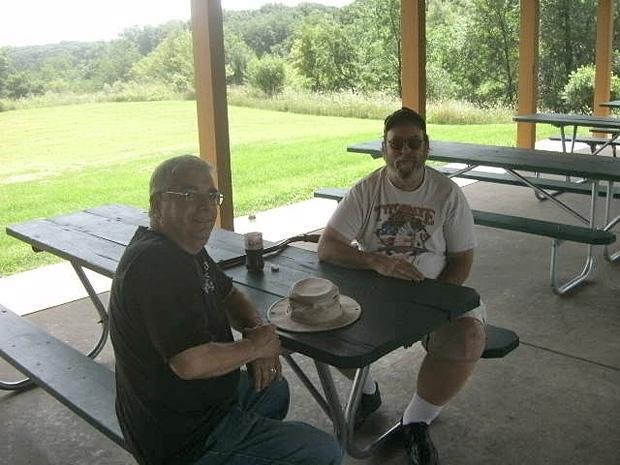 August 13, 2011 - Taking in some of the fun by having a face to face QSO are Mike K9FE (left) and Dave K9WDB.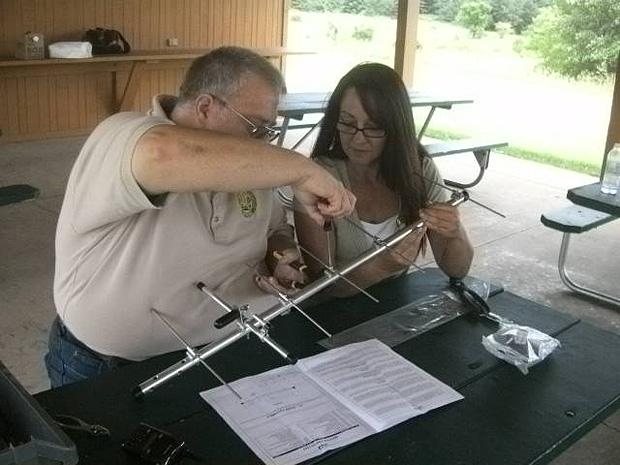 August 13, 2011 - The Radio in the Park event also brought together a beam building project by Dean KC9EOQ and Dawn KC9LQS. This UHF beam will be installed at Dean's QTH to enhance the performance of an IRLP node he has working.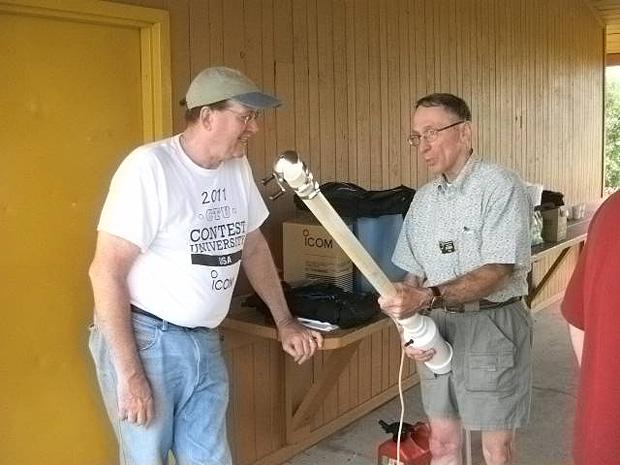 August 13, 2011 - Demonstrating a "spud-gun" or "antenna launcher" is Ron KC9SNI. The device was built by Harry K9DXA. Using common plumbing pipe and adapters, the unit works on compressed air to launch a projectile over buildings, trees or any other possible antenna support structures.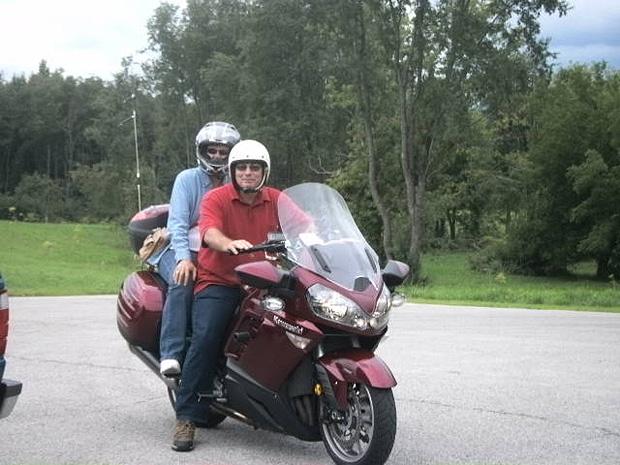 August 13, 2011 - Arriving in style! Carol WD9CNW and her husband Tim N9TO used their ham radio equipped motorcycle as transportation to the Radio in the Park event. You can see the boom microphone attached to Tim's helmet and the multi-band antenna mounted to the back of the bike.

Technician Classes Offered
July 18, 2011 - The Fox River Radio League will be holding a free 5 week course where you can learn everything you need to earn your first Amateur Radio License. This class is designed for people with no background in radio or electronics and will prepare you for the first level Amateur Radio License test. The test is a 35 question multiple choice written test. Morse Code is no longer required for a Ham Radio License.

Orv Receives Thanks for FD Generator Power
Photo: Eric K9LGE

July 12, 2011 - If you've been to our Field Day site, then you've seen the massive AC generator that provides our power. The City of Aurora allows the club to use the generator, and it's Orv who brings it out and sets it up. While not yet licensed, Orv has become one of the gang and regularly attends meetings. He received a special token of appreciation in the form of a club name badge at the last meeting. (l to r) Vice President and FD Coordinator Harry K9DXA, Orv, President John AG9D, Past President and FD Coordinator Mike K9FE.
Take Me Out To The Ball Game!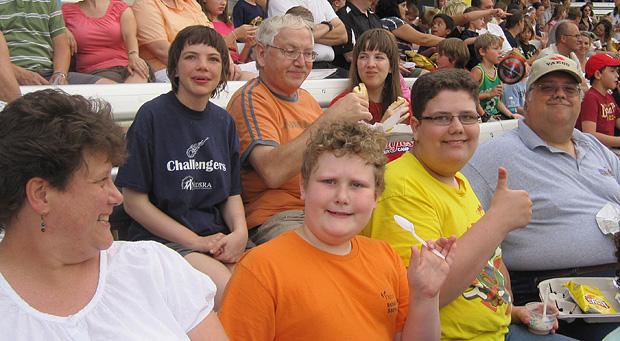 Photo: Mike K9FE

July 16, 2011 - FRRL members and their families enjoyed a night out at Elfstrom Stadium to root on the Cougars and view a spectacular fireworks show!
Click here to see more pictures.
FRRL Hamfest - Sunday - July 10!
July 6, 2011 - Our hamfest is this coming Sunday! If you don't have tickets, they are available at the gate, $8 each. Kids under 16 are FREE! New and used ham equipment... outdoor flea market... VE exams... hourly door prizes... on-site food vendor... handicap accessible... free parking.
Grand prize $250!
Doors Open at 8:00 am. Location: Aurora Central Catholic High School - 1225 N. Edgelawn Drive - Aurora, IL
Talk-in FRRL Repeater 147.210+ (pl 103.5)
Fun! Field Day 2011