The FRRL wishes all a very Joyous and Safe Holiday!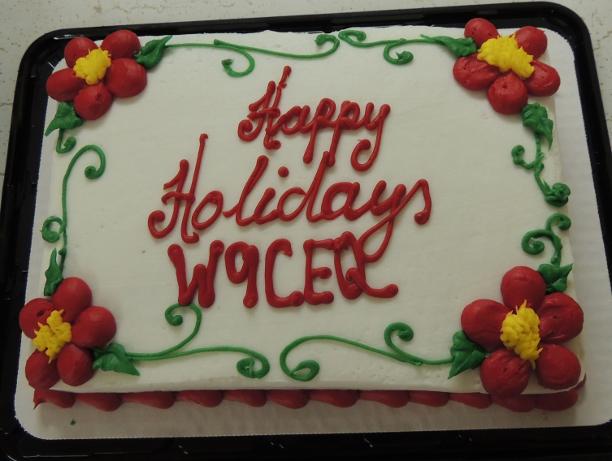 The annual FRRL holiday party was held on December 11th during the last membership meeting of the year. This was the cake made for the occasion.

2012 Holiday Party Food Drive
At the FRRL holiday party members donated 1 1/2 deep basket shopping carts of food and $131 in cash. The donations were collected and delivered by Mike K9FE.
2013 FRRL Board of Directors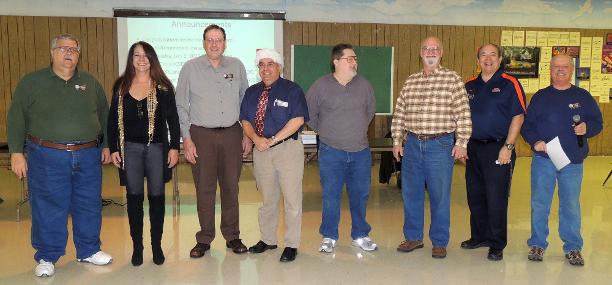 The annual Board of Directors election was held at the December 11th meeting . Shown is the 2013 board: Treasurer Dean KC9EOQ, Vice-President Dawn KC9LQS, President Harry K9DXA, Secretary Mike K9FE, Director John N9STK, Director Michael KC9OPV, Director Denny W9HI and Director Jack K9JE, who also led the nonminating committee. Congratulations to the new and returning board members.

Clean up Day at St. Rita Church - FRRL Members giving back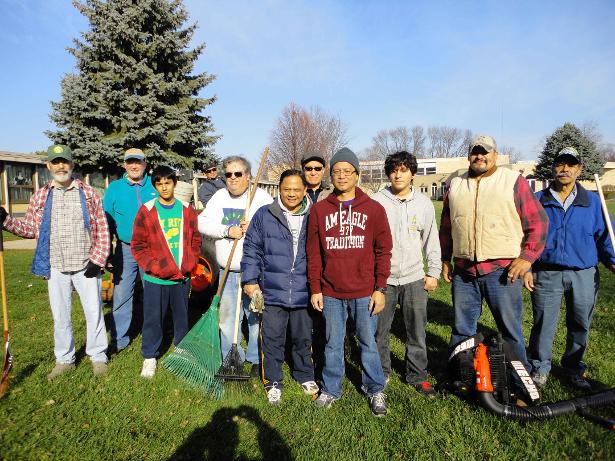 FRRL members take the opportunity to give something back to St. Rita Church Saturday, Nov. 17, 2012. Fr. Cesar asked the organizations they host to help out with lawn clean up. We grabbed rakes and leaf blowers, and made it a clean sweep.
You can see FRRL members Neil KB9RFX, Bill WB9LPW, Harry K9DXA, and Fr. Cesar N9CCP.
The others in the photo represented other organizations involved.


FRRL Simulated Emergency Exercise, Conducted by Bill, NF9D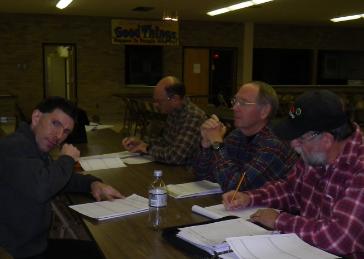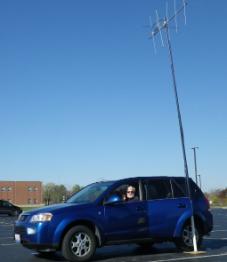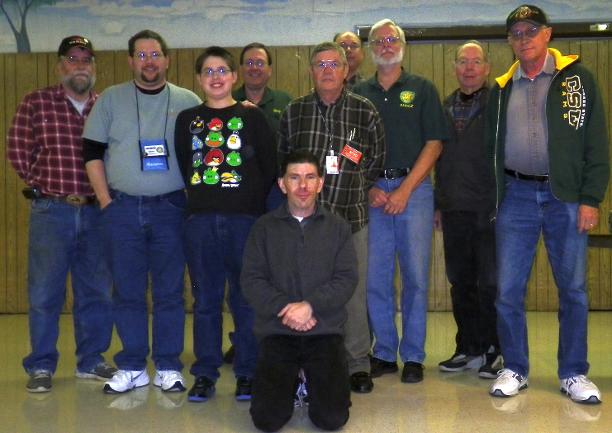 On October 27, 2012 Bill, NF9D, Emergency Coordinator (EC) for the Kane County Armature Radio Emergency Services® (ARES®) conducted the first FRRL Simulated Emergency Exercise and training session. Participants learned Message handling practices and procedures for participating in a Directed Net during emergency operations. They then got a chance to practice their new skills and return to the "classroom" for a debriefing. Everybody learned something from this session and had lots of fun as well.

Another Magical Moment in Ham Radio, Article by AH6EZ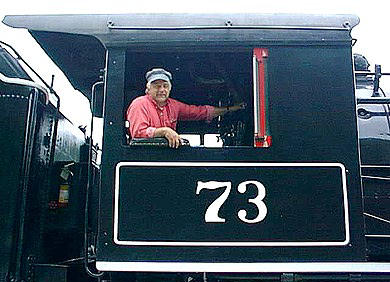 Pictured above: Brian, W1LYD in the Yukon Territory (photo from his web page)
On September 24, 2012 Dick, AH6EZ made a rare mobile AM contact with Brian, W1LYD/VY1.
Read more in the October 2012 Archover on the Newsletters page.
Amateur Extra License Class is Underway!
Pictured are Ron, WA7RBC (left) and Randolph, W9HE (right)


In a class that started on Saturday September 29th, ten General Class amateur radio students will be studying hard for the next seven weeks to pass the exam to upgrade to Amateur Extra. The first class began with Electrical Principles taught by Randolph, W9HE and Ron, WA7RBC. In the photo above Ron and Randolph use a copper pipe and a PVC tube demonstrate the X and Y complex impedance which is resistance and reactance, of which the combined effect of the two is resistance. The class continues on Saturday October 6th at 9:00am at Rasmussen College in Aurora. It's not too late to jump in!

FRRL Is Rockin' In The Park!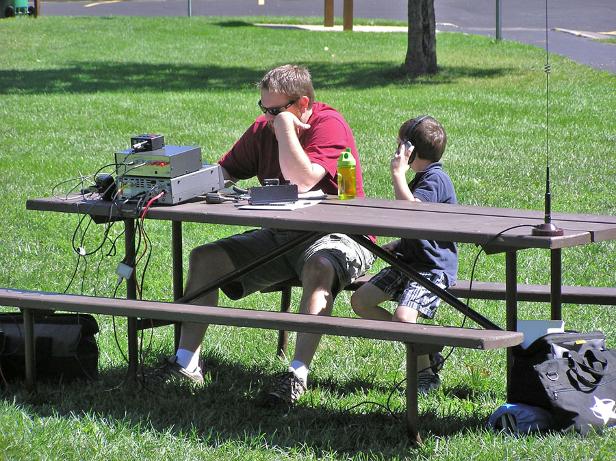 Eric AB9OS and his son Jack attended the FRRL's Rockin' in the Park event, organized by John KC9OJV. The event was held Sept. 8 and focused on QRP operating. Also attending were Harry K9DXA, Dick AH6EZ, Bill NF9D, Paul KC9SEB, Denny W9HI and Ed W9EFW from the Dupage ARC. Thanks to John for generating this idea and coordinating the activity!
Upgrade Classes For EXTRA Scheduled

August 8, 2012. - The Fox River Radio League will offer a free 8-week class for General Class hams who want to upgrade to Extra Class. This class is open to all amateurs. You do not need to be a member of the club to participate. Visit the Education page for more information. Please note that the start date for this class has been moved to Saturday, Sept. 29th.



FRRL Goes To The Ballpark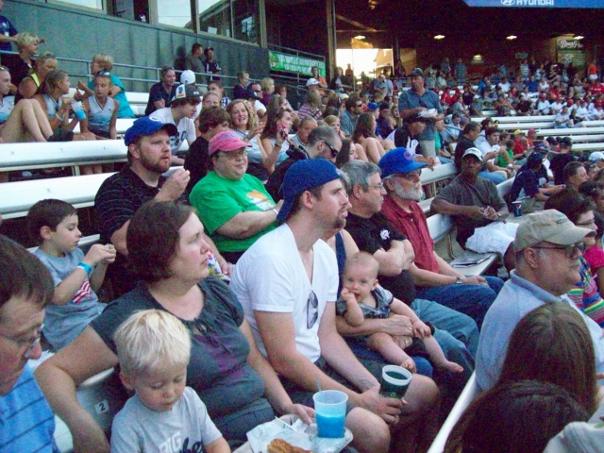 July 27, 2012. - Members of the FRRL attended a Kane County Cougars baseball game at the stadium in Geneva. It was a perfect night for baseball,even though the Cougars lost to the Wisconsin Timber Rattlers, 4-1. The game was followed by an excellent fireworks show. As the picture shows, this was a family event, with lots of kids in attendance.
FRRL Works The Rookie Roundup
April 15, 2012. - FRRL members Paul KC9UZV, Debby WX9VOR, Paul KC9SEB, and Paul AC9BS qualified as Rookies, and ran W9CEQ as a multi op SSB station in the ARRL Rookie Roundup on April 15. They had a great time. Dick AH6EZ was the main Elmer for the group, but Michael KC9OPV, Denny W9HI, Fr. Cesar N9CCP, Dean KC9EOQ, and Harry K9DXA gave the operators plenty of help as well. The operators all agreed contesting is fun, and they will be back for more.
2012 Roster Cover Award Presented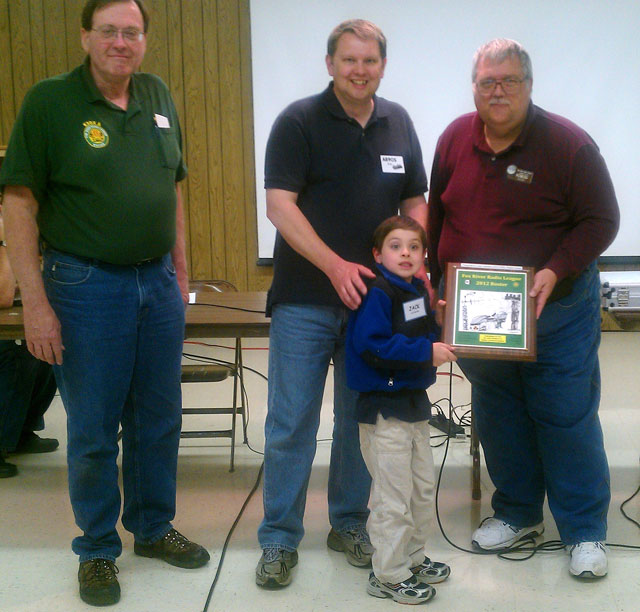 April 10, 2012 - A special award was presented to Jack, the 6-year old son of Eric, AB9OS. Jack created the cover for the 2012 FRRL member roster. I learned that while Eric is participating in the local 10-10 International 10 meter net on Monday nights, Jack sits at a desk next to his father. Jack overheard a discussion about looking for a cover design for this year's roster. Jack went to work and completed a hand made drawing of his vision of what ham radio looks like to him. Jack's dad, Eric then added the wording and logos to the cover. Needless to say this young ham to be knocked it out of the park. Congratulations to Jack for sharing his wonderful drawing with us. Submitted by: Dean, KC9EOQ
Father Cesar Promoted to General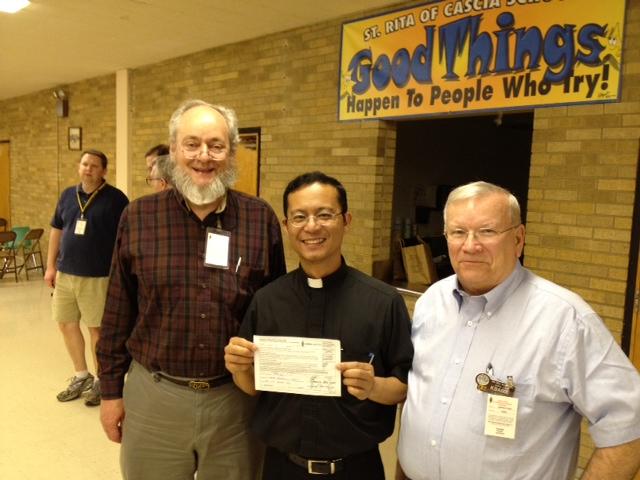 March 20, 2012 - Club member Fr. Cesar from St. Rita's Church was promoted to General, not the one with stars on his shoulder but a General class licensed amateur radio operator. The VE session was well attended as students from Eric's, AB9OS, recently completed General License class sat for their test in hopes of upgrading their license. Congratulations to Fr. Cesar!! (Pictured from left to right: VE Coordinator Doug, W9RD, Fr. Cesar, N9CCP and VE Larry, K9ARZ)
Radio Cabinet/Equipment Moving Day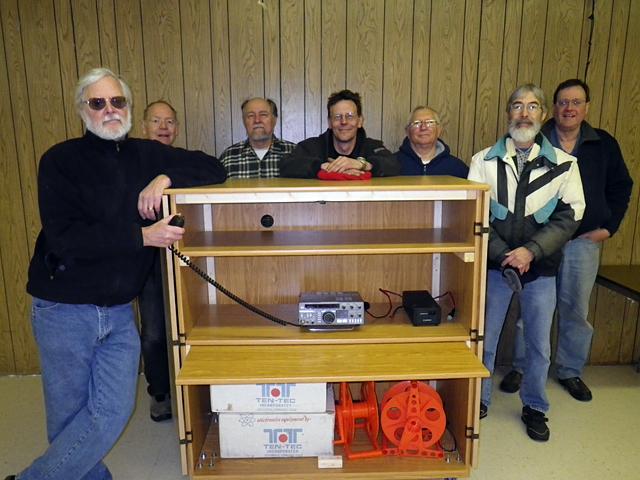 February 25,2012 - In 20 degree weather a large group of helpers arrived at AH6EZ's QTH in St. Charles and loaded the new 231 pound radio cabinet onto a low flatbed trailer supplied by Paul, KC9VGH. The group then traveled to the St. Rita church and, using Paul's appliance dolly, easily got the cabinet down the stairs and into the storage room. The whole gang then went to KC9DAO's Penninger Radio shop and moved the club's belongings from the upper floor into a moving truck and the cabinets onto the trailer. for delivery to our new storage facility. Having so many helpers made the work go very quickly. We appreciate the time and effort by AH6EZ, K9DXA, KC9EOQ, KB9RFX, W9WGC, KC9VGH, W8ACI, and KC9BF on this fairly cold wintry day. Thanks everyone for a job well done.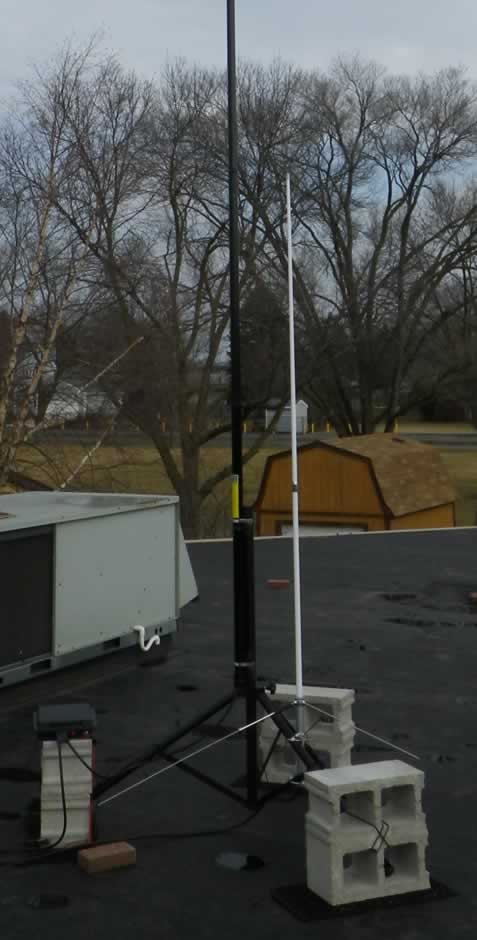 February 4, 2012 - A group of ten FRRL members installed two new antennas on the roof of the St. Rita of Cascia Church and made basement antenna coax connections at the rear of the club meeting room. They tuned the 33 foot vertical with twelve 20 foot radials on 80-10 meters and tested things by making contacts on 20m and 10m. Members were also able to talk to the FRRL 2m and UHF repeatesr using just 5 watts. Plans are to move the tri-band vertical to its own tripod or mast in the future. Thanks to everyone who contributed to this project and made it a success including AH6EZ, K9DXA, KC9EOQ, K9LGE, K9WDB, KB9KP, KC9VGH, KC9UTT, KB9RFX, and KC9OJV.

Kermit Carlson, W9XA, Named FRRL Ham of the Year

FRRL members voted Kermit Carlson, W9XA, "2011 Ham of the Year" by secret ballot at the December, 2011 meeting. The award was announced and presented to him during the annual FRRL banquet on January 21, 2012.
Congratulations to New FRRL Life Member Dave, N9XU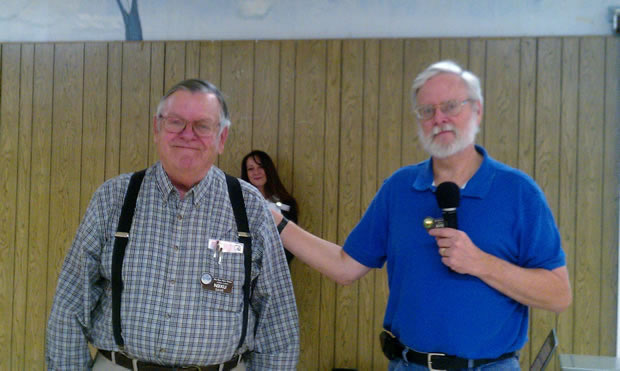 January 10, 2012 - FRRL member Dave Holdeman, N9XU, was named a Life Member of the club at the January, 2012 meeting. The club bylaws provide that hams who have been licensed for fifty years and have been members of the club for 10 years can be granted Life Member status by the Board. Dave is an active ham who serves as a net control operator for club nets, and recently organized a digital mode 'experimental' net. He has also had articles published in QST and CQ VHF magazines. Congratulations Dave!