Our busy December meeting included making donations for the food drive, sharing treats, winning prizes and electing our 2015 officers.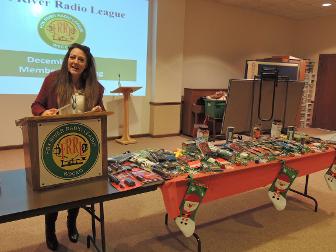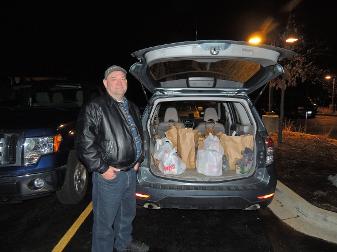 Above photos by Mike, K9FE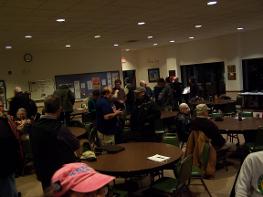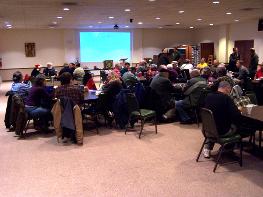 Above photos by Chris, KC9BKS
FRRL Annual Food Drive - Tuesday Dec. 9, 2014
For the past 10 years, the club has collected items during our December meeting to benefit Hesed House. We will do so again this year. If you'd like to contribute, please bring your non-perishable food donations (as well as personal care and paper products) to the meeting next week. Mike Urso will collect donations in the parking lot and deliver them to Hesed House.
Cash donations are are also welcome. Thanks in advance for your generosity.
FRRL Winter Banquet - Saturday Jan 24, 2015
2014 General Class - Location Change
The Free General class has moved to a new location. See details on the Education page.
FRRL's Ham Radio Demonstration at Area Farmer Markets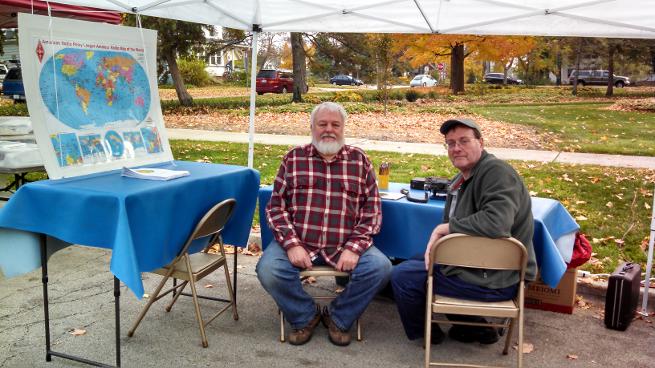 Dan, W9YKK and Harry, K9DXA volunteered their time last month to be part of the club's new Outreach effort. Pictured in the portable station they set up at the market Dan and Harry went prepared to demonstrate HF operation, talk to visitors about amateur radio, and distribute information about FRRL and the resources we offer. The St. Charles and Batavia markets were a test run to see if the farmers markets would be a good venue for getting information about FRRL and amateur radio to the public. Those who participated in these efforts agree that the club would benefit from continuing this activities next year.
Thanks to Dan and Harry, as well as to Kermit W9XA and Jeff N9JZN, for contributing their time and knowledge to this pilot program.
de KC9LQS
The 2014 General Classes are scheduled for Oct. 25 - Dec. 20. Please join them for all or as many classes as you can. Info is available on our Education page.
- Info supplied by Mike, K9FE
The 2014 Technician Classes are scheduled for Sept. 6 - Oct. 18. Please join them for all or as many classes as you can.
- Info supplied by Mike, K9FE
Fundraiser for FRRL Member Jim N9XP
Most of you have heard about the house fire that rendered the home of Jim N9XP and his family uninhabitable. FRRL is collecting funds to help the family get through this tragedy.
If you are inclined to help, you can send a donation via the club. Be sure your check specifies that the this is a donation to the N9XP fund. We will collect all donations made and forward them to Jim as they accrue, and we'll keep you posted on the total amount raised. Send your check (made out to FRRL and marked as a donation to the N9XP fund) to P.O. Box 673, Batavia IL 60510.
Thanks in advance for your generosity. Your support is really needed, and will do much to help the Nevitt family through this difficult time.
FRRL Featured on local TV station WSPY
FRRL President Dawn Williams, KC9LQS, is interviewed on the local TV station WSPY. Their program "Fox Valley Today" featured her discussion of Ham Radio and the Fox River Radio League's 90th year celebration.
(This is a delayed entry. The program originally aired on 7/8/14 )
FRRL Outreach at the Batavia Farmers Market July 26

FRRL participated at the Batavia Farmers Market today, the first event in the club's new outreach effort.

Working with me were Kermit W9XA, Jeff N9JZN, Dan WA9YKK and Jim N9XP. Kermit was kind enough to bring his mobile shack. Jeff N9JZN and I brought a screen tent with a simple HF station that operated W9O and provided demonstrations to visitors. We talked to several potential new hams and other visitors who found our display quite interesting. The morning was fun, gratifying, and definitely worth the effort.

These photos include one of Batavia Mayor Jeff Schielke with me when he stopped to visit our booth; Kermit, Jeff and Dan operating during the morning; a shot of the tent in full swing, with several visitors in attendance.

- Dawn, KC9LQS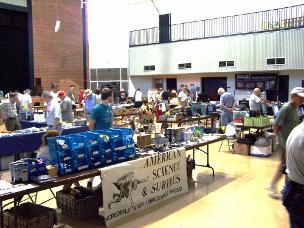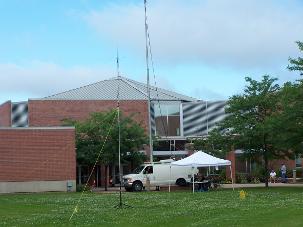 Above photos by Chris, KC9BKS

This years Hamfest was fun for all. VE testing, forums, the Red Cross comm trailer was there and of course vendors and lots of shoppers.

Today's Hamfest also marked the opening day of our special event station W9O operating at the Hamfest. It will be operating for the next two weeks.

Pictured at the top center are David, KD9BRU and Eric, KA7YHA operating the W9O HF station. The Communications van provided the 2M & 6M SSB station thanks to Kermit W9XA, Tobi KC9TCD, Tom WB9CHY and others.

The FRRL is 90 years old!
Celebrate with us July 13 - July 27, 2014

To celebrate this significant event we will be operating a special event station with the call sign
W9O
beginning on July 13th at our
Hamfest
.
Please check out the article on the right. If you're a club member, sign up to operate.
Members and non-members please watch our
operating schedule
and contact us. We will be offering a commemorative QSL card for those who make a contact with us then send in a request.
The May 2014 meeting was full of surprises
...and sign up forms.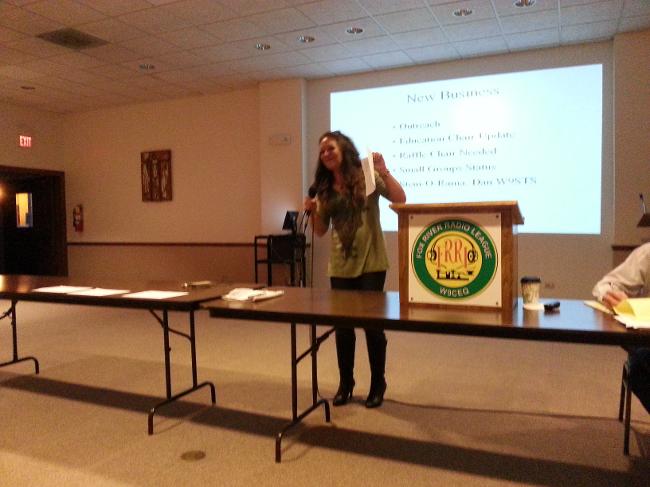 We had a full house for our May meeting last night. About 70 members attended, learned about the exciting activities planned for the next few months, and signed up to help make things happen!

Thanks to all who made it out.

A special thanks to:
Our new Education co-chairs Debby WX9VOR and Mike K9FE
and to Tobi K9TCD who volunteered to fill the newly created Special Projects Manager position.

All of you -- members, volunteers, and officers -- make this club an amazing organization!

Dawn
KC9LQS



Program Chairman Dick Illman, AH6EZ
Appreciated for his work!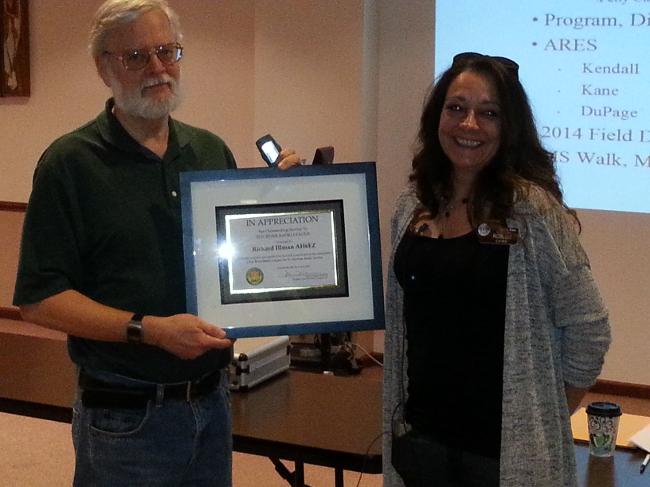 At the April 2014 meeting Dick, AH6EZ was presented with a certificate of appreciation for his work as the club Program Chairperson. Over the years Dick has presented us with entertaining and very educational programs. We all thank you Dick and we'll miss you. Many of Dick's presentations are listed on the
Programs
page.
First Meeting at our new location!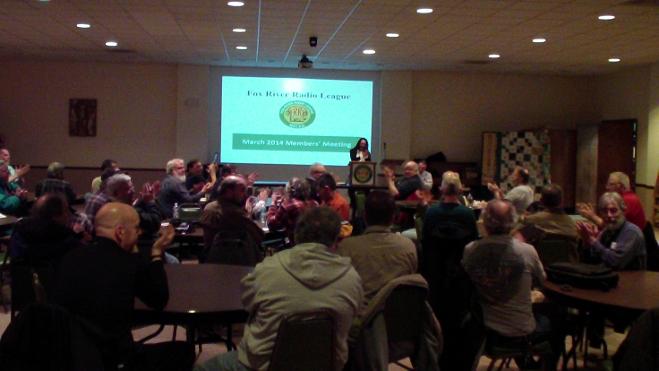 The March 2014 meeting for the FRRL was held at our new location in Batavia.
It seemed to be pretty much unanimous that we all like the new meeting place.
Will you be included in the Roster?

The 2014 roster is in the works.

All those whose membership is current as of Feb. 28th will be included.
If you haven't sent in your renewal for this year, please mail it to the address below. Please use the new/renewal
Application
to be sure we get your information. For Details see the
Membership
page.
Fox River Radio League
P.O. Box 673
Batavia, IL 60510
The FRRL has a new location!

We have moved. General meetings, VE Sessions, and Board meetings will be at different locations. See the above flyer for directions to our meeting and VE testing locations. Also see the "Find Us" page for details.
2013 HF Challenge results are in!

Check out the results on the bottom of the new HF Challenge page.

The 2014 FRRL Winter Banquet was great fun!
2013 HAM of the Year Announced!


Photo by Becky Illman, KB9UBU

The 2014 FRRL winter banquet presented awards to those who volunteered their service to the club in 2013, presented the 2014 officers and board, and presented the FRRL HAM of the year.
Pictured above, this year the HAM of the year was awarded to Kermit Carlson, W9XA (left). Presented by the FRRL Club President Harry Jones, K9DXA (right).
See more photos from the 2014 banquet on the
2014 Banquet
page.


Presentation of a Raspberry Pie
to the presenter of Raspberry Pi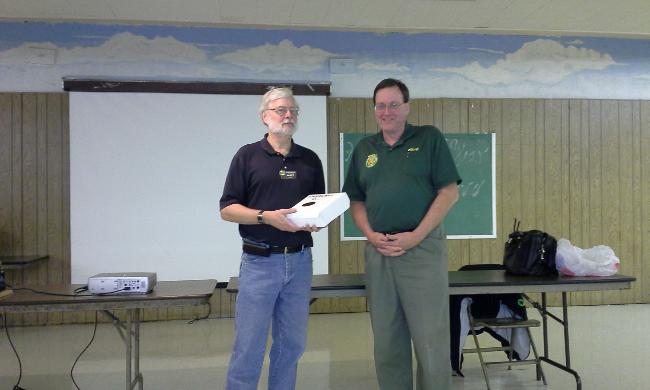 The program for the January meeting was on Raspberry Pi presented by Dick, AH6EZ.
In that meeting Harry, K9DXA, presented Dick with a Raspberry Pie.