The FRRL is a club for radio amateurs offering knowledge sharing, fun, events, education, and license testing.
Our meetings include a short business meeting and a program of special interest to amateur radio operators.
We also have a "Net" on our 2-meter repeater each Tuesday at 7:30 PM with the exception of our meeting nights.
For questions or more information please reach out to [email protected].
Upcoming Events:
Regular membership meetings are held the second Tuesday of the month.
A "white elephant" gift exchange will occur, bring a working gift from your shack to participate!
Location:
Bethany Lutheran Church
8 S Lincoln St.
Batavia, IL 60510
We will give a best effort to have a Zoom call to broadcast the meeting for those that are unable to attend live. Link will be sent prior to the meeting.
All persons interested in amateur radio are invited to attend. Please contact director2 [at] frrl.org for an invite!
Board Meeting: January 2nd, 2023 at 7:00 PM
Board meetings are regularly scheduled for the first Tuesday of the month.
VE Testing: January 18, 2024 at 6:00 PM
The FRRL, in conjunction with the ARRL VEC, sponsors regular amateur examinations. Ad-hoc sessions are planned during major events and will be added to the schedule.
Testing Location:
Geneva Lutheran Church
301 S 3rd St,
Geneva, IL 60134
Pre-registration is requested but not required, walk ins are welcome!
If possible, please let us know in advance by emailing ve [at] frrl.org.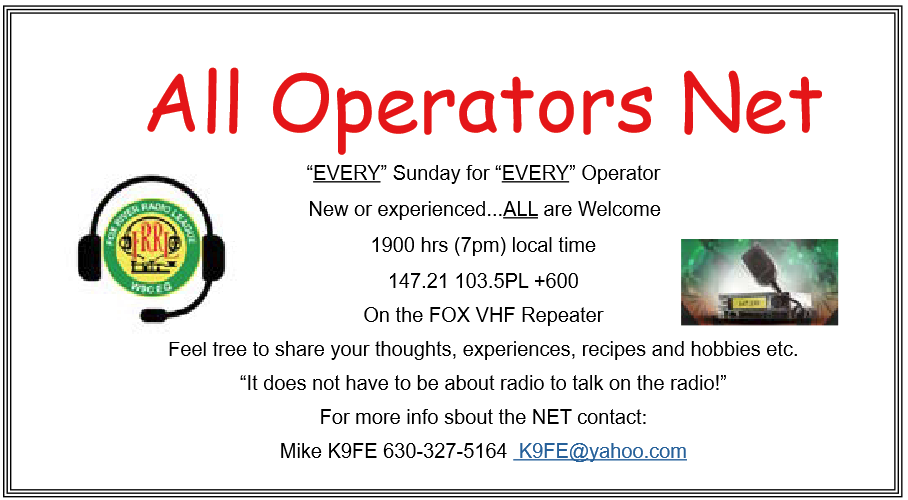 Press <Ctrl> F5 for latest info.