Technician Course offered in October -- by Mike, K9FE
Finally have the dates for Tech class nailed down!
The location is the North Aurora Messenger Library, Conference room. The library is located near the intersection of Oak and Rt. 31 in North Aurora.
The days are all 5 Saturdays in October, 3,10,17,24,31 and the times are 9am until 12 pm. Be prompt at 9 but not too early since the building does not open until 9. This will be an overview class covering the harder areas, but you will be expected to do a lot of studying on your own.
If you are interested in attending and have not talked /emailed me please contact me.
FRRL Education Chair
Mike Urso K9FE
k9fe [at] yahoo.com
Ron, WA7RBC (left) and Randolph, W9HE
Archive photo from 2012 Armature Extra class

August Meeting: A Departure from the Norm - by Dawn, KC9LQS
If there's one thing we hams enjoy as much as radio...it's food! Our August membership meeting will combine both those pleasures. Following our usual business meeting, FRRL is hosting a potluck social hour. If you're so inclined, please bring a dish to pass. We'll have full use of the church's kitchen beginning at 6:30, and a buffet table will be set up along the side of the room. (Plates, napkins and utensils will be provided.) Coffee and water will be available as always. The meeting will begin at 7:30. We'll take a short break to finish setting up, and then spend the rest of the evening visiting with friends and enjoying the treats you've contributed. (And if cooking isn't your thing, no worries, Program Director Jason NX9Y says just bring yourself!) On request from Dave K9WDB, I'll be bringing Taco Bean Soup, a dish that has gotten the thumbs up at numerous "Patio Portable" radio events Jeff and I have hosted at our QTH. If you're planning to bring a food item, please shoot a brief email to President [at] FRRL.org so I can have enough tables set up for the buffet. We hope you can make this slightly off-beat, but sure to be fun, event! 73 de KC9LQS
Farmers Market Batavia July 2015 - by Dawn, KC9LQS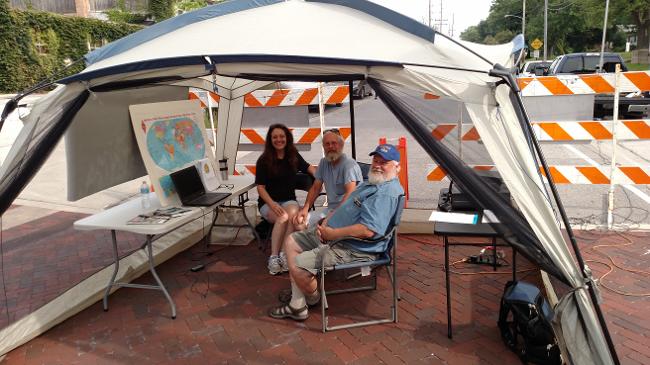 FRRL members (from left) Dawn KC9LQS, Jeff N9JZN and Dan WA9YKK set up shop at the Batavia Farmers' Market to demonstrate amateur radio and share information about the club. The visit is part of the club's Outreach effort to inform the community about the resources we offer. Our third and final appearance this year will be at the Aurora Farmers' Market next month.
Portable Radio Setup Class - by Mike, K9FE
Proclamation: Amateur Radio Week in Batavia - by Dawn, KC9LQS
Mayor Jeffrey D. Schielke designates June 21-28 as Amateur Radio Week in Batavia! His official proclamation was issued last week in recognition of Field Day weekend and of the service amateur radio operators provide to the community. The official document will be on display in the information tent during Field Day. This marks the second such proclamation issued by the mayor. Previously, at the request of FRRL, Schielke recognized Amateur Radio Week in 2010. When you come out to operate at the FRRL Field Day site at Elburn Forest Preserve, be sure to stop by the information tent to see the proclamation. Our thanks to Mayor Schielke for recognizing the value of amateur radio!
First Farmers Market for 2015 - by Dawn, KC9LQS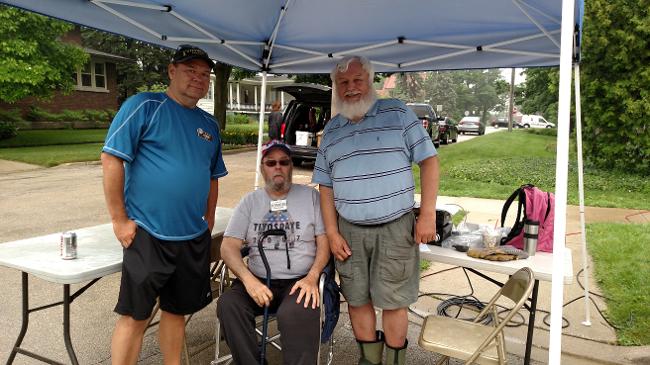 FRRL's first Farmers' Market visit this year was in St. Charles today! Dan WA9YKK, Dave K9WDB and Dave KD9BRU set up our tent and a portable station at the north end of the market, demonstrating radio operation for market visitors. They netted a QSO with KC1SF, a special event station commemorating Special Forces' 60th anniversary. Dawn KC9LQS assisted with the latter part of the morning. Although steady drizzle kept foot traffic lower than most vendors would have liked, Market Manager Rob assured us we were welcome any time, so a repeat visit might be in order later this year! Additional market visits are scheduled in Aurora and Batavia this summer, all in an effort to increase awareness about amateur radio and the resources FRRL can offer interested members of the community.
Field Day Poster up at Library - Download Your Copy!
- by Dawn, KC9LQS
Word is getting out about Field Day! Reach potential new hams is a critical task for the future of amateur radio, and Field Day's GOTA station and information tent offer a great opportunity for those who want to learn more. Dawn KC9LQS arranged permission from the Batavia Public Library, located a block from our meeting space, to let FRRL display a poster inviting the public stop in and see operators in action! A mini version of the poster has been reproduced as handouts and a supply is available at the library. If you'd like to print out the flyer for distribution at your local library or other venue, download the PDF here.
Field Day 2015 Band Captians Meet - by Mike, K9FE
Pictured from left to right are: Jim Sr.(K9XP), Jim (N9XP), Phil (W9XAN), Larry (W9OKI), Bill (WB9LPW), Dan (WA9YKK), and Zach (W9CLR) -- Photo by Mike, K9FE
June 6, 2015
The FRRL Field Day Band Captains held a meeting at the Elburn Forest Preserve Field Day site. The logistics, schedule, and requirements were gone over to help have a safe and successful event.
Find the FRRL Field Day location and info on the Field Day page.
MS Walk Radio Volunteers - by Mike, K9FE
Pictured above: Geoff KB9QFP, Harry K9DXA, Dan W9STS, Doug KC9DED, Bill NF9D, and Dave K9WDB,
not pictured took picture Mike K9FE (Photo by Mike, K9FE)
This year was typical. Corporate sponsorship was really down as the drug companies and Sam's Club pulled out. Costco donated 2000 bottles of water. Browns fries chicken and Tommys Red Hots donated also.
Volunteers from the ham radio community were W9STS Dan, K9DXA Harry, NF9D Bill, K9WDB Dave, KD9DED Doug, KB9QFP Geoff, K9FE Mike. Start/finish, Langum Park, Bennett Park, and Island Park were staffed by radio operators.
Doug kd9ded showed up from hearing the info on the Tuesday Fox net. Licensed in March this was his first ham activity. Good choice Doug!
Weather looked good in the morning. Rain was coming in near closing the event.
Amature Extra Class in Session - by Dawn, KC9LQS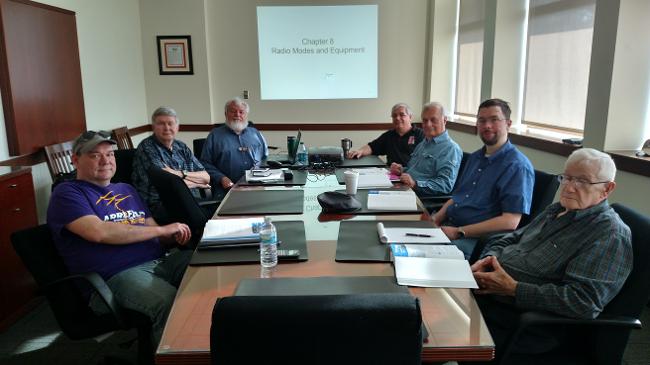 Education Chair Mike K9FE and instructor Dan WA9YKK prepare to lead Saturday's Amateur Extra licensing class at Messenger Public Library. Spirits were high and this dedicated group was asked to consider becoming instructors once they complete the course and earn their upgraded tickets. See the Education page for more dates and details.
For more information, email Mike at education [at] frrl.org.
2015 Hamfest will be July 12th - by Dawn Wiliams, KC9LQS
This year's Hamfest will be held Sunday July 12th. The location is the same as last year at the Aurora Central Catholic High School in Aurora, IL. Details as well as a flyer and printable (pdf) map are available on the Hamfest page.
Amateur Extra Class - March 7 thru May 9, 2015 - by Mike, K9FE
The FRRL announces a new Amateur Extra license upgrade class beginning
March 7, 2015. See the Education page for details and a flyer.
In the February meeting it was noted that Weather Spotter Schedules are out.
Links to area spotter schedules and the Tom Skilling Seminar at Fermilab are at the right.
The 2015 FRRL Winter Banquet
2014 HAM of the Year Announced!
Congratulations to Mike Urso, K9FE. This year's Ham of the Year.
The 2015 FRRL winter banquet presented awards to those who volunteered their service to the club in 2014, presented the 2015 officers and board, and presented the FRRL HAM of the year.
Pictured above, this year the HAM of the year was awarded to Mike Urso, K9FE (left). Presented by the FRRL Club President Dawn Williams, KC9LQS (right).
See more pictures from this year's banquet on the 2015 Banquet page.