The FRRL is a club for radio amateurs offering knowledge sharing, fun, events, education, and license testing.
Our meetings include a short business meeting and a program of special interest to amateur radio operators. We meet the second Tuesday of each month at 7:30 PM in Batavia.
We also have a "Net" on our 2-meter repeater each Tuesday at 7:30 PM with the exception of our meeting nights.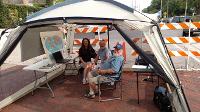 FRRL at the Farmers Market: August 27, 2016
- Update Aug 24, 2016
The FRRL will once again set up shop at the Batavia Farmers' Market to demonstrate amateur radio and share information about the club.
Please stop by to visit, participate, and operate.
Saturday Aug. 27th from 7:00 AM until Noon.
FRRL Board Meeting: September 6, 2016
- Update Aug 5, 2016
FRRL Board meeting
VE Test Session: Tuesday Sept. 20, 2016
- Update July 23, 2016
The next test session will be held at Messenger Library in North Aurora at 7:00 PM. Click "VE Test Session" for Details.