The FRRL is a club for radio amateurs offering knowledge sharing, fun, events, education, and license testing.
Our meetings include a short business meeting and a program of special interest to amateur radio operators. We meet the second Tuesday of each month at 7:30 PM in Batavia.
We also have a "Net" on our 2-meter repeater each Tuesday at 7:30 PM with the exception of our meeting nights.

MS Walk: May 1, 2016
- By Mike, K9FE, March 28, 2016
The MS Walk in St. Charles this year will be on Sunday May 1, 2016. The FRRL will again be supporting communications for this event.
Remember this is the same day as the Sandwich hamfest but this is for a great cause. Please contact Mike, K9FE (k9fe [at] yahoo.com) or call. See details on the MS Walk page.
Membership Meeting / Program: May 10, 2016
- Update, April 26, 2016
Hello all,
We have had a slight change in our program schedule. Our original May program on Quartz needed to be rescheduled due to a schedule conflict with the presenter.
Jack Hudson-W9MU has graciously agreed to move up his presentation to the May slot! If your interested in DXing, do not miss this presentation!
I will update the group again when I get the Quartz program rescheduled!
Thank you and 73,
Jason-NX9Y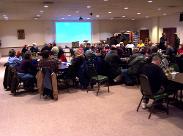 Hamfest: Sunday July 10, 2016
- Contact Dave, K9WDB, Update April 5, 2016
Hamfest 2016 plans are underway and advance tickets for the event will be available beginning April 12th. We are still looking for a few seminar presenters, and indoor tables are still available.
Flyer at the top of this page