The FRRL is a club for radio amateurs offering knowledge sharing, fun, events, education, and license testing.
Our meetings include a short business meeting and a program of special interest to amateur radio operators.
We meet the second Tuesday of each month at 7:30 PM in Batavia.
We also have a "Net" on our 2-meter repeater each Tuesday at 7:30 PM with the exception of our meeting nights.
VE Test Session: Tuesday Jan. 17, 2017
- Update Nov. 15, 2016
The next test session will be held at Messenger Library in North Aurora at 7:00 PM. Click "VE Test Session" for Details.
FRRL Banquet: Saturday Jan. 21, 2017
- Update Jan. 6, 2017 by Dawn, KC9LQS
FRRL's annual winter banquet Update:
Saturday January 21, 2017
5:00 PM - 9:00 PM
2016 Banquet photo by Mike, K9FE
FRRL Board Meeting: February 7, 2017
- Update Jan. 3, 2016
FRRL Board meeting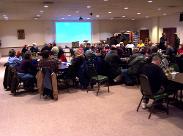 Membership Meeting / Program: February 14, 2017
- Update Jan. 16, 2017 from Jason, NX9Y
Hello all. We have an exciting presentation for February's meeting! Gregg Sperling-KB9E will be giving a presentation on MotoTRBO and DMR, digital formats. Please join us for a fascinating presentation on this digital mode that is gaining in popularity in the ham community!