The FRRL is a club for radio amateurs offering knowledge sharing, fun, events, education, and license testing.
Our meetings include a short business meeting and a program of special interest to amateur radio operators.
We meet the second Tuesday of each month at 7:30 PM in Batavia.
We also have a "Net" on our 2-meter repeater each Tuesday at 7:30 PM with the exception of our meeting nights.
Board Meeting - March 3, 2020
The FRRL Board Meeting will be held 7:00 PM at:
Colonial Restaurant

(in the West Plaza Shopping Center)
FRRL March Meeting Dinner - March 10, 2020
Click on the Banquet link on the left for more details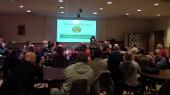 Second Tuesday of the month at 7:30 PM at:
Bethany Lutheran Church
8 S. Lincoln St.
Batavia, IL
VE Test session will be held 7:00 PM at:
Messenger Library
113 Oak St.
North Aurora, IL