The FRRL is a club for radio amateurs offering knowledge sharing, fun, events, education, and license testing.
Our meetings include a short business meeting and a program of special interest to amateur radio operators.
We meet the second Tuesday of each month at 7:30 PM in Batavia.
We also have a "Net" on our 2-meter repeater each Tuesday at 7:30 PM with the exception of our meeting nights.
VE Test Session: Tuesday March 21, 2017
- Update Jan. 20, 2017
The next test session will be held at Messenger Library in North Aurora at 7:00 PM. Click "VE Test Session" for Details.
FRRL Board Meeting: April 4, 2017
- Update Mar. 8, 2017
FRRL Board meeting
IEEE EMC Society 2017 Meeting: April 19, 2017
- Update Mar 15, 2017
Meeting Program: "Man-Made Noise and the Impact to Radio Communications – The Changing Environment".
The program will feature Mr. Ed Hare (W1RFI) IEEE Vice-President of Standards and American Radio Relay League Laboratory
Manager and Dr. Greg Lapin (N9GL) - Co-chair of the Spectrum and Receiver Performance Working Group of the Federal Communications Commission (FCC) Technological Advisory Council.
MS Walk: May 7, 2017
- Coordinator for the FRRL comm support: Mike Urso, K9FE
- Update Mar. 8, 2017
The walk support is an annual event for the FRRL. We have been doing this for 22 years. It is a very worthwhile event.
It will be held at
Pottawatomie Park St. Charles. Start at 7:00 - 7:30 AM on May 7th.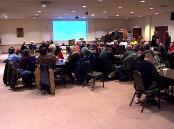 Program: An intro into operating SO2R
May's program is "An intro into operating SO2R (single op/2 radio) from a city lot presented by WT2P. In this presentation, CJ will be discussing how to automate your station so you can spend more time focusing on contacts and less time on knobs and switches! This will include a live demonstration. He hopes to leave you with knowledge on how to make operating multiple radios and antennas a seamless effort!
FRRL Hamfest: July 9, 2017
- Update Mar. 8, 2017
Flea market, VE Testing, Forums and more.
See our
Hamfest
page for details and map.