The FRRL is a club for radio amateurs offering knowledge sharing, fun, events, education, and license testing.
Our meetings include a short business meeting and a program of special interest to amateur radio operators.
We meet the second Tuesday of each month at 7:30 PM in Batavia.
We also have a "Net" on our 2-meter repeater each Tuesday at 7:30 PM with the exception of our meeting nights.
FRRL Board Meeting: March 7, 2017
- Update Feb. 9, 2016
FRRL Board meeting
VE Test Session: Tuesday March 21, 2017
- Update Jan. 20, 2017
The next test session will be held at Messenger Library in North Aurora at 7:00 PM. Click "VE Test Session" for Details.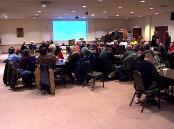 Program: Build a $50 Antenna Analyzer
While not as fancy as one costing over $300 this analyzer will scan your antenna and provide a graph of SWR and show the resonate Frequency (Lowest SWR). It can be used standalone or connected to a computer. Dan will show the buildout process and provide some examples of it output.