MS Walk Radio Volunteers - by Mike, K9FE
Pictured above: Geoff KB9QFP, Harry K9DXA, Dan W9STS, Doug KC9DED, Bill NF9D, and Dave K9WDB,
not pictured took picture Mike K9FE (Photo by Mike, K9FE)
This year was typical. Corporate sponsorship was really down as the drug companies and Sam's Club pulled out. Costco donated 2000 bottles of water. Browns fries chicken and Tommys Red Hots donated also.
Volunteers from the ham radio community were W9STS Dan, K9DXA Harry, NF9D Bill, K9WDB Dave, KD9DED Doug, KB9QFP Geoff, K9FE Mike. Start/finish, Langum Park, Bennett Park, and Island Park were staffed by radio operators.
Doug kd9ded showed up from hearing the info on the Tuesday Fox net. Licensed in March this was his first ham activity. Good choice Doug!
Weather looked good in the morning. Rain was coming in near closing the event.
Amature Extra Class in Session - by Dawn, KC9LQS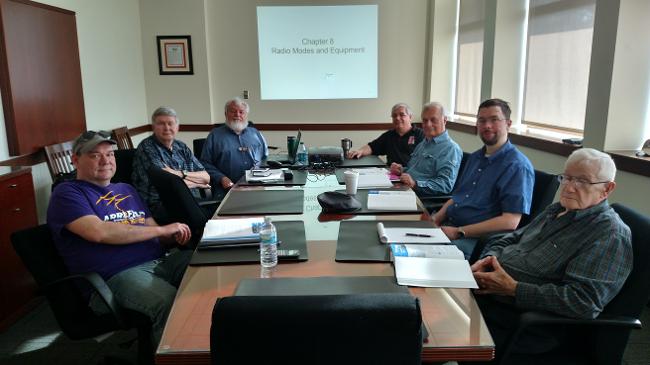 Education Chair Mike K9FE and instructor Dan WA9YKK prepare to lead Saturday's Amateur Extra licensing class at Messenger Public Library. Spirits were high and this dedicated group was asked to consider becoming instructors once they complete the course and earn their upgraded tickets. See the Education page for more dates and details.
For more information, email Mike at education [at] frrl.org.
2015 Hamfest will be July 12th - by Dawn Wiliams, KC9LQS
This year's Hamfest will be held Sunday July 12th. The location is the same as last year at the Aurora Central Catholic High School in Aurora, IL. Details as well as a flyer and printable (pdf) map are available on the Hamfest page.
Amateur Extra Class - March 7 thru May 9, 2015 - by Mike, K9FE
The FRRL announces a new Amateur Extra license upgrade class beginning
March 7, 2015. See the Education page for details and a flyer.
In the February meeting it was noted that Weather Spotter Schedules are out.
Links to area spotter schedules and the Tom Skilling Seminar at Fermilab are at the right.
The 2015 FRRL Winter Banquet
2014 HAM of the Year Announced!
Congratulations to Mike Urso, K9FE. This year's Ham of the Year.
The 2015 FRRL winter banquet presented awards to those who volunteered their service to the club in 2014, presented the 2015 officers and board, and presented the FRRL HAM of the year.
Pictured above, this year the HAM of the year was awarded to Mike Urso, K9FE (left). Presented by the FRRL Club President Dawn Williams, KC9LQS (right).
See more pictures from this year's banquet on the 2015 Banquet page.