The FRRL is a club for radio amateurs offering knowledge sharing, fun, events, education, and license testing.
Our meetings include a short business meeting and a program of special interest to amateur radio operators.
We meet the second Tuesday of each month at 7:30 PM in Batavia.
We also have a "Net" on our 2-meter repeater each Tuesday at 7:30 PM with the exception of our meeting nights.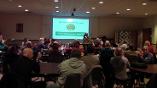 Membership Meeting - December 12, 2017
Monthly membership meetings are held 7:30 PM at:
Bethany Lutheran Church
8 S. Lincoln St.
Batavia, IL
Program Election of 2018 Board and Christmas party.
Elections: Elections will be held for officers and for the Ham of the Year. See the December ArcOver for details.
ByLaw Change: A bylaw change was proposed and is posted in the ArcOver (above). A vote will be taken for this change as well.
Treats: If you wish, please bring treats to share.
Grab Bag Exchange: If you wish to participate in the Grab Bag Exchange, bring something from your shack (approx. $15.00 value) in a paper bag for a blind exchange.
Food Bank Donation: Please bring a Donation for the Food Bank. Canned foods and paper goods are appreciated or you may bring a cash donation. Donations will be taken outside before the meeting. Look for the vehicle with people standing around it.
Purchase Tickets for the January Banquet: Please purchase tickets for the January Banquet / Buffet at the December meeting (or online). We need a head count.
ARRL Grid Chase - Begins January 1, 2018 0000 UTC and runs all year
This is mentioned in the November Arcover. More info available at: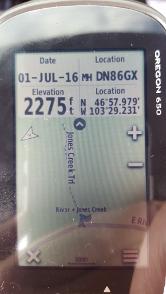 showing Grid Square during NPOTA activation in 2016.
Board Meeting - January 2, 2018
The FRRL Board Meeting will be held 7:00 PM at the Colonial Restaurant (in the West Plaza Shopping Center) on West Galena Blvd in Aurora.
Monthly membership meetings are held 7:30 PM at:
Bethany Lutheran Church
8 S. Lincoln St.
Batavia, IL
This meeting will be the Meeting / Buffet replacing the awards banquet. Awards will be presented, 2018 Officers will be inducted, and food will be served. (Not necessarily in that order.) Buffet tickets are $10.00 each.
Don't forget to bring your receipt with you in January.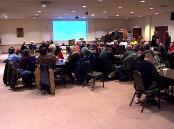 Education: Amateur Extra class: January 20, 2018 thru March 24, 2018
See the
Education page
for details on this Saturday morning class to help you get your Amateur Extra class license. The last class will include the VE Testing.
VE Testing: January 16, 2018


VE Test session will be held 7:00 PM at Messenger Library, North Aurora, IL.