Meetings are held at 7:30 p.m. on the second Tuesday of each month at St. Rita of Cascia Church, 750 W. Old Indian Trail in Aurora, IL. All are welcome to attend. Club highlights appear below.
DECEMBER MEETING NOTICE!
REMEMBER YOUR FOOD PANTRY DONATION!
Meeting Date: 12/10/2013
Please bring nonperishable item(s) for our annual donation to the Aurora Area Food Pantry.
Our December meeting will include the election of 2014 officers, our traditional Christmas Party meeting, and the Food Pantry donation.
Hope to see you all there.
| | |
| --- | --- |
| A few pictures from the General Class currently in progress. The class is scheduled to finish up just before the VE Test session on November 19th. Good luck to all of our students. | |
AH6EZ and KB9UBU activated the Grosse Point Lighthouse US0021 in Evanston on August 17.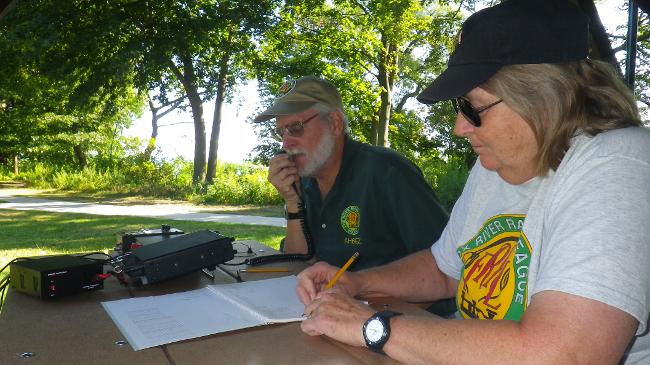 We were lucky to have parking, 120vac power in the pavillion, and great weather for the event. We made over 50 contacts in 21 states and 2 countries on SSB and CW in about 3 hours using an IC-706 and a Buddi-dipole antenna. Becky did logging for the first time ever.

General Class - September 28 thru November 16, 2013

The FRRL Education Chair, Ron, WA7RBC has announced the next General License class. See our Education page for details.



Vendors, Flea Market, Prizes, Seminars, and More!

The 2013 FRRL HAMFEST was a great Success!




Thank you to all who attended!



FRRL getting set up for Field Day 2013!

Come out and join us at Jerico Lake Park in Montgomery, IL for a great Field Day experience. Field Day weekend is is Saturday June 22 and Sunday June 23rd. Operation hours are from 1:00 pm Saturday through 1:00 pm Sunday.
For a map to the location see our
Field Day
page. Hope to see you there. - Photos by Chris, KC9BKS
FRRL booth at Hamvention in Dayton 2013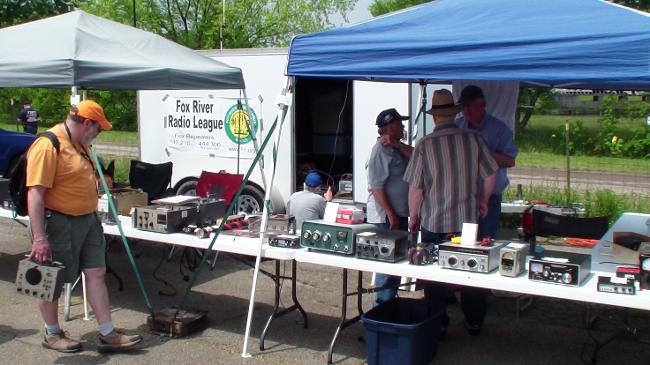 Picture of crew for the communications group for the St. Charles 2013 MS-WALK - May 5th -- Group coordinated by Mike, K9FE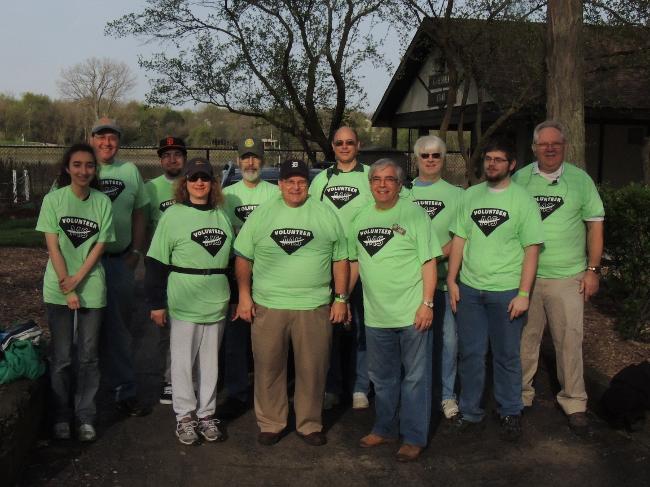 Pictured are Eliana KC9VYE, Harry K9DXA, Matt Urso, Effie N9HDU, Neil KB9RFX, Geoff KB9QFP, Chris KC9BKS, Mike K9FE, Pat N9TBD, Tony KC9RVR, Dan KC9WSW, (Not Pictured Dave K9WDB)

(picture from Mike K9FE)

The MS-WALK has great weather with temps around 70 and fair breezes. A nice change from some previous events. The MS Society expressed their thanks for the dedicated effort that the FRRL communications team puts in year after year.
It's almost time for Field Day 2013

The FRRL will hold Field Day on June 22-23 at Jericho Lake Park in Montgomery, IL. Please see the details on our

Field Day

page.
MS-Walk 2013
The FRRL is supporting the MS-Walk St. Charles, IL again this year. Mike, K9FE is the organizer for our support. We need your help. See details on our
MS Walk
page.
The FRRL Sponsored Worked All Counties Award is back
A big thank you to Larry, W9OKI for helping us get the Worked All Counties (WAC-IL) back on the web site. Check out the rules and download the form at the
WAC-IL
page.
Technician Class - March 30 thru May 11, 2013
The FRRL Education Chair, Ron, WA7RBC has announced the next Technician class. See our Education page for details.
The 2013 FRRL Winter Banquet was a great success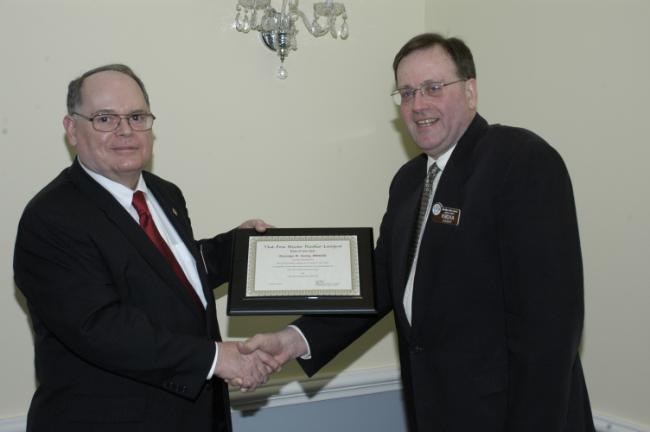 The FRRL winter banquet presented awards to those who volunteered their service to the club in 2012, presented the 2013 officers and board, and presented the FRRL HAM of the year. Pictured above, this year the HAM of the year was awarded to Dick Isley, W9GIG (left). Presented by the FRRL Club President Harry Jones, K9DXA (right). -- Photo by Becky Illman, KB9UBU.

FRRL Members attend the WCRA Mid-Winter Hamfest
- Photos by Mike Urso, K9FE

FRRL Winter Banquet - Saturday, Jan 26, 2013
Be sure to get your tickets before January 22nd.

Please read the document at the right for details on this year's Winter Banquet.


If you don't have your tickets yet, they can be purchased but the deadline is 10:00 pm Tuesday, January 22. See the attachment on those details as well.

Hope to see you there!

-Info provided by Dick, W9GIG