Amateur Radio has three levels of licenses.
The FRRL offers multi-week classes throughout the year at no charge for people wishing to prepare for their first amateur radio license or for a license upgrade.
For more information contact Cyndi, K9NAX at: education [at] frrl.org
Do you want to become a Ham Radio Operator?
Now is your chance to get your first Amateur Radio License (Technician Class License)
This class is co-offered by the FRRL and the Bolingbrook Amateur Radio Society (BARS).
Saturday mornings May 18 thru July 27, 2019
9:00 AM until noon
Golden Corral
4270 East New York Street
Aurora, IL
The Fox River Radio League (FRRL) is joining together with the Bolingbrook Amateur Radio Society (BARS) to co-present an Amateur Radio Technician Class license training course this summer.
This course is a FREE 10 week course. Where you will learn everything you need to receive your new Amateur (Ham) Radio Technician Class FCC radio license.
This class is designed for people, who are new to the hobby, and are interested in finding out more about the world of the Amateur Radio. There is no prior license required. There is no age limit. There is only the need of interest in the Ham Radio hobby, and a willingness to learn. Be prepared for both interactive, group and individual study. There will be a VE test license exam on the last week of the course. But not to fret, the Technician Class course itself provides you with all the knowledge and information that you'll need to pass the exam. Invite your 'Want-a-Be' HAM friends, your Spouse, your Children, Nieces, Nephews, or Grandchildren. ANYONE is invited to join the class or "sit in" as a refresher. If you've EVER had an interest in Amateur Radio, attend this FREE course, study and get your Amateur Technician Class license!
The textbook for the class will be
The ARRL Ham Radio License Manual, 4th Edition
. Be sure you have a copy before the class. Books can be purchased online through
www.arrl.org
at local hamfests, or other online sources such as Amazon, and Kindle. Additional study material will be given to you at the classes. After receiving your ARRL Ham Radio License Manual book, be sure to review the book and read the first chapter. To be ready to dive into learning at the first class and to ask questions.
(Direct links to purchase various formats of the book are available on the right)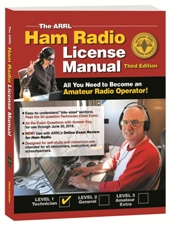 ARRL offers the Ham Radio License Manual that we will be using in this class.
CLASS REGISTRATION:
Attending the class is free but to get a head count we are asking that you register so we know you are coming:
2019 Technician Class Schedule (Updated 4/22/2019)
All classes are 9:00 AM - 12:00 Noon
Sat. May 18

Sat. May 25

Sat. Jun 1


Sat. Jun 8

Sat. Jun 15

Sat. Jun 22

Sat. Jun 29

Sat. Jul 6


Sat. Jul 13

Sat. Jul 20

Sat. Jul 27
Chap 1

Chap 2

Chap 7


Chap 8

Chap 6

Field Day
Chap 3

Chap 4


Chap 5
Chap 9

VE Test
Welcome to Amateur Radio

Radio and Signals Fundamentals

Licensing Regulations


Operating Regulations

Communicating with Other Hams

Field Day - Field Trip to Field Day

Electricity, Components, and Circuits

Propagation, Antennas, and Feed Lines
Amateur Radio Equipment

Safety

VE Testing
Scott Childers, W9CHI
Patrick Smith, N9TBD
Ron Delpiere-Smith, KD9IPO
Roger Bara, W9YU
Debby Gray, WX9VOR
NIARTT Team

Jaye Sauer, W9CY
Gary Smith, AA9JS


Dan Taddei, W9STS
Harry Jones, K9DXA
Volunteer Examiners (VEs)
THIS IS NOT A CRAM CLASS, HOWEVER A good amount of study on your own will be required.
Golden Corral

4270 East New York Street

Aurora, IL 60504
Course is at: Golden Corral - Aurora, IL
If you wish, to enjoy breakfast too, please come early.
Members from FRRL and BARS are invited to come early, eat breakfast, and offer their support.
Course is co-presented by:
FRRL - Fox River Radio League -- website: www.frrl.org
BARS - Bolingbrook Amateur Radio Society -- website: www.k9bar.org
Golden Corral
4270 East New York Street, Aurora, IL