Please check your calendars and consider signing up to work EMCOMM for
this worthwhile cause.
Please note: we have enough volunteers for 2019. Thank you!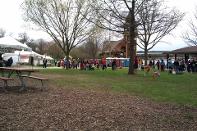 Sunday May 5, 2019 7:30 AM - 12:00 noon
Pottawatomie Park, St Charles, IL
8 North Avenue
St Charles, IL 60174
Priscilla Miller, AE9PM (director3 [at] frrl.org) to register
What do you need:
Food and a drink. Water is provided.
A 2 meter/70 centimeter HT. A mobile is optional. A spare battery for your HT.
Dress for anything from snow to rain to sun. Layers work well so you can be comfortable.
An attitude of service. We volunteer to do this because it IS what we do as HAMS.