Please check your calendars and consider signing up to work EMCOMM for this worthwhile cause. Note: you don't walk the 4 miles; you drive your car to your assigned station.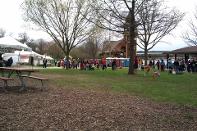 Sunday May 5, 2019 7:00 AM - approx 12:00 noon
Pottawatomie Park, St Charles, IL
The park is on the Fox River, Route 25 north of Rt 64. About 1/2 mile north to North St. where you head west. North St. ends at the parking lot.
Priscilla Miller, KD9ICS (priscill [at] comcast.net)
What do you need:
Pack a lunch and drink. You will be assigned to a rest stop on the walk route.
A 2 meter HT or mobile. Preferably both since at times you cannot be with your mobile.
A spare battery for your HT.
Repeaters have not been determined for 2019 yet. The suggestion last year was to be ready to use any of the following:

The NIARC repeater: 147.06 MHz +600 offset 103.5 tone.
The FRRL 2M repeater: 147.21 MHz +600 offset 103.5 tone.
The KC9OEM repeater: 145.47 MHz -600 offset 103.5 tone.
Dress for anything from snow to rain to sun. Layers work well so you can be comfortable.
An attitude of service. We volunteer to do this because it IS what we do as HAMS. The volunteer coordinators in the past calls us her ANGELS. We just show up and help.
How long is this event: Depends on the weather. We have been done by 11am some years and
some years we are there till 2pm. Usually around noon is more of an average.
If you are interested in signing up, contact Priscilla, KD9ICS at the above email address.